Meet Our Donors
We thank all our planned-gift donors for their generous support. Here are some of their stories.
Why Seton? Why Estate Planning?
By John and Cindy McCune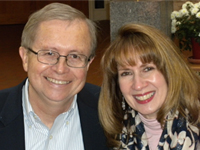 Hello! We are John and Cindy McCune, members here at Seton since 1998. We recently did what we call a 'heart search' and made a decision to provide specific financial support above and beyond our weekly offertory gift. It wasn't easy, nor was it a comfortable conversation when we first sat down, but we'd like to share with you how we arrived at our choice to support Seton through estate planning.
Last September, when information was first shared with the parish about the Family Room project, we were thinking about our finances and talking through some of our fears and doubts about the current economics of the world in which we live. Our discussion soon turned to faith and trust. What do we believe and whom do we trust? Those are hard questions to face, and though we soon began to realize the extent of the blessings we've received, we admittedly had doubts. There's still one more college education to fund, our house needs new windows... the list goes on and on.
Ultimately our conclusion was that life's challenges would always be here, but in the end, the money we are earning is really God's and we need to follow St. Peter out of the boat, and live the faith we profess. It's easy to say, but not at all easy to do. As we vacillated back and forth we prayed, and through God's grace, we've found peace and ways to make a donation happen for the Family Room project.
So what does this have to do with estate planning? As we were going through our 'heart search,' we came across a quote from Blessed John Paul II in a Magnificat meditation, "We are now standing in the face of the greatest historical confrontation humanity has ever experienced. I do not think the wide circle of the American society, or the wide circle of the Christian community realizes this fully." As we looked around us and read the news every day, our eyes were opened to what God's Church and our children and our grandchildren are facing.
We also began to realize that financial planning with giving in mind was more than just our Sunday offering. Blessed John Paul II wrote in an encyclical that "...the Church (was) at the dawn of the third Millennium, summoning her to put out into the deep on the sea of history with the enthusiasm of the New Evangelization." Then we heard the call from Pope Francis and saw him exemplify what is called "The New Evangelization." A future saint and our current church leader are calling for us to awake from our sleepwalking and to act on our faith and support our hope in love. What our church is facing, what our family is facing, are long-term battles beyond our lives. We believe that not only do we need to provide yearly support through weekly donations, but that there's also great need for longer-term evangelization, as in the Family Room project. Especially important is for that support to be ongoing, beyond our lives, in the form of legacy estate planning. This was a thoughtful prayerful process about giving back to Our Lord what is really His, but which he has entrusted to us.
In the end, through God's graces, we stepped cautiously out of the boat praying that our hearts not be hardened, but that we would remain inspired to support the mission He called us to, a mission shared by Seton. How about you?